Purchasing photographic prints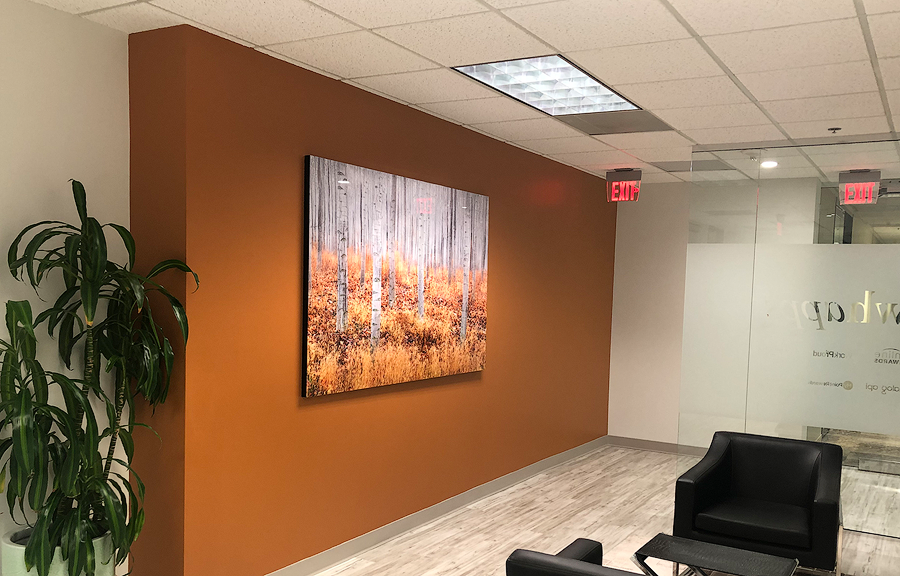 "Falling Into Winter" as 48"x72" metal print displayed in collector's office lobby
All the photographic images you see on this website are available for purchase as fine art prints in a variety of mediums. Pricing is shown below based on size and can be purchased online through the shopping cart system while viewing a image. If you desire additional services or different size selection than listed please contact us to help you out. For specific requests often we can produce larger sizes for final art product sizes than listed online.

Limited Edition - Adrian Klein Photography offers a small number of work displayed on this website as limited edition prints. Limited edition prints will range from 50 to 150. Once the limited edition count has been reached for a photograph, it will no longer be sold as prints in any size. Limited edition prints will include a COA (Certificate of Authenticity) that is numbered and signed by me, your artist. Photos chosen as limited edition usually have truly unique qualities to them yet the decision process is completely subjective.
Open Edition - If the photograph does not specify that it's being offered as limited edition, then it will be open edition. Open edition means there is no limit to the number of prints that can be produced. In some cases we may sell a personal sized open edition loose print in 8"x12" size for any photo on this site, including limited edition as long as photo isn't sold out.
Process - We use only photo labs that we know will deliver quality results for long lasting canvas, metal, and acrylic artwork. All work will be physically or digitally signed before shipping out.
Mediums - The majority of what we sell at this time is printed on metal, with the rest printed on either canvas or acrylic with some small options on paper. Available through our shopping cart system is frameless ready to hang artwork. Contact us in advance if you are interested in framing.
Payment - We accept all major credit cards through Paypal. Credit card is preferred and can reduce the wait time other payments can bring. You do not need a Paypal account to pay for your order.

Order Processing - Please allow us 3 to 4 weeks for your order to be completed and delivered. Ordering process timing can vary depending on what is being ordered. We will keep you updated if there is a delay for any reason. Rush orders can sometimes be processed for an additional fee.
Shipping - Shipping will normally be UPS, FedEx or USPS depending the lab. Free shipping offers and listed shipping rates only apply to the contiguous United States. If you live outside of this area, contact us first to get a shipping quote.

Refunds - Given the nature of each order being custom printed and shipped to each buyer, we will only accept refunds for broken or damaged photographs when received. If this happens please contact us asap to resolve. Buy with comfort knowing many satisfied customers have purchased from Adrian Klein Photography before you.
Investment Comparison by Medium and Size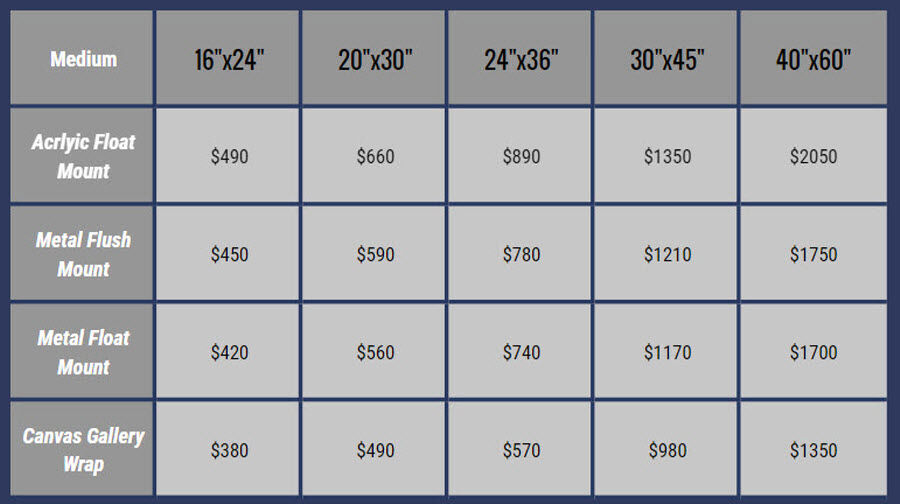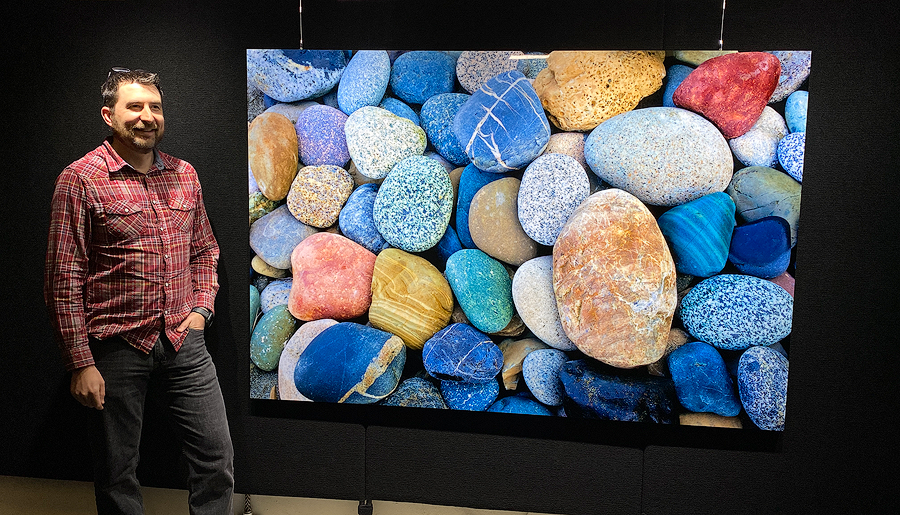 "Rocky Candy" as 48"x72" metal print at the lab with me for size comparison.
(Lighting great for the photograph, not so good on me!)
Room Examples and Size Comparison

Below you will find a number of examples of photos available on this website and what they look like displayed in different rooms and color schemes. The goal is to help guide you in the purchase process on what might work well for your own space. All of examples are meant to illustrate what final art pieces ranging in size from 30"x45" to 48"x72" would look like. You can click on any image if you want to order that specific photograph in any available size.
If you want to see what any photo on this site will look like on your own wall please email us what photo you are interested in and an image of the wall. You need to be directly facing the wall, no side angle views. Then you can see how it might look in your very own space!

Important to know is that how photograph shows once it's displayed depends on multiple factors primarily the medium it's printed on and any direct or indirect lighting. When viewing photos on a phone or monitor they are backlit which may make them appear brighter than the final print. Again this is highly dependent on how it's displayed. For example a bright colorful photo will likely not stand out if it's printed on matte paper and displayed in a dark setting.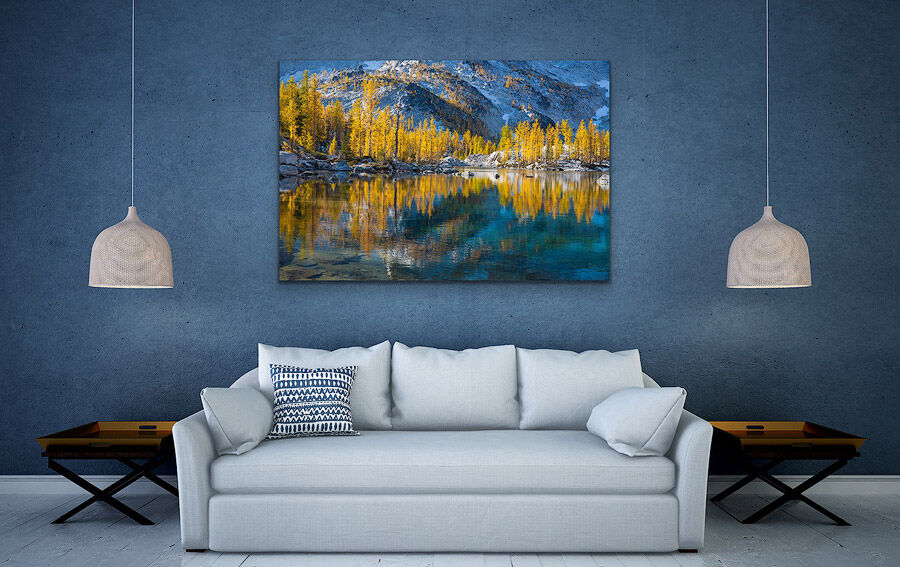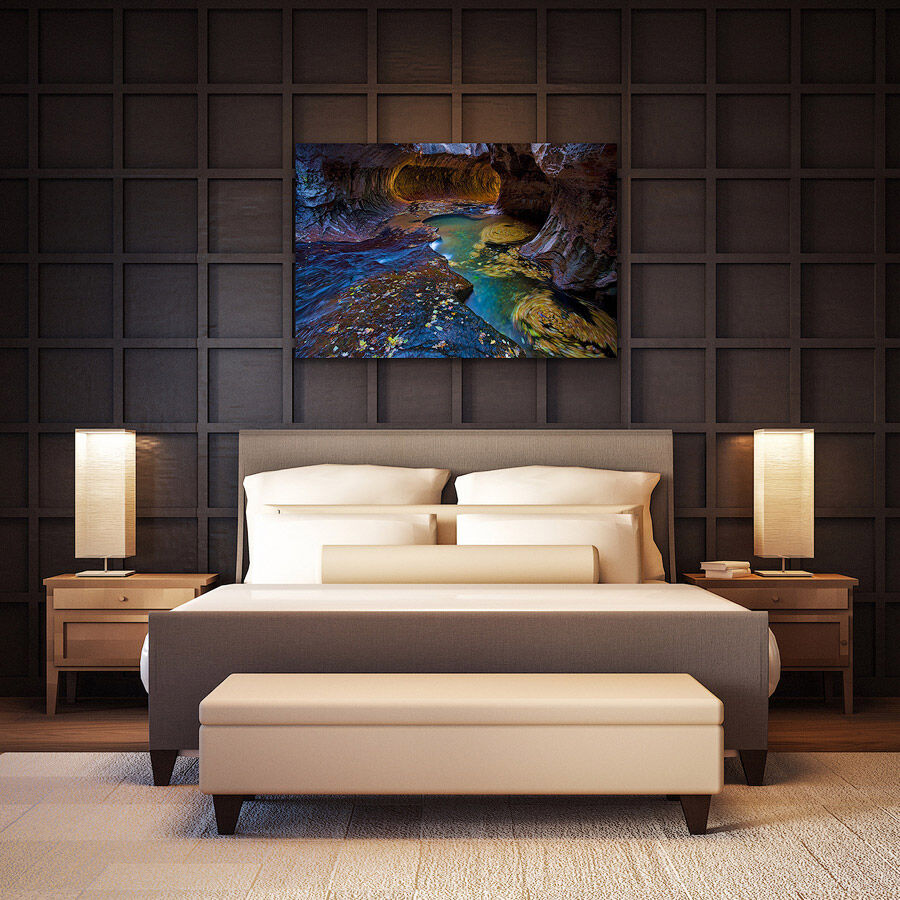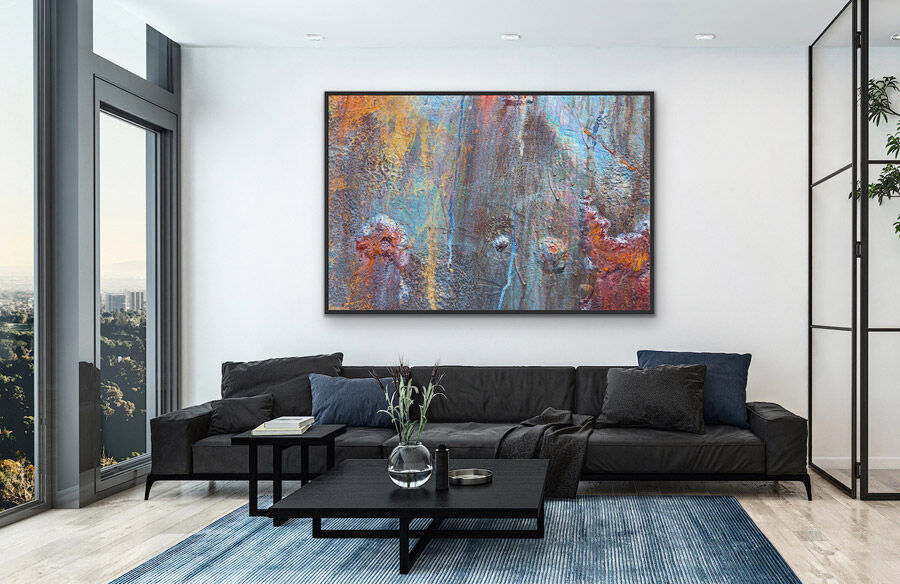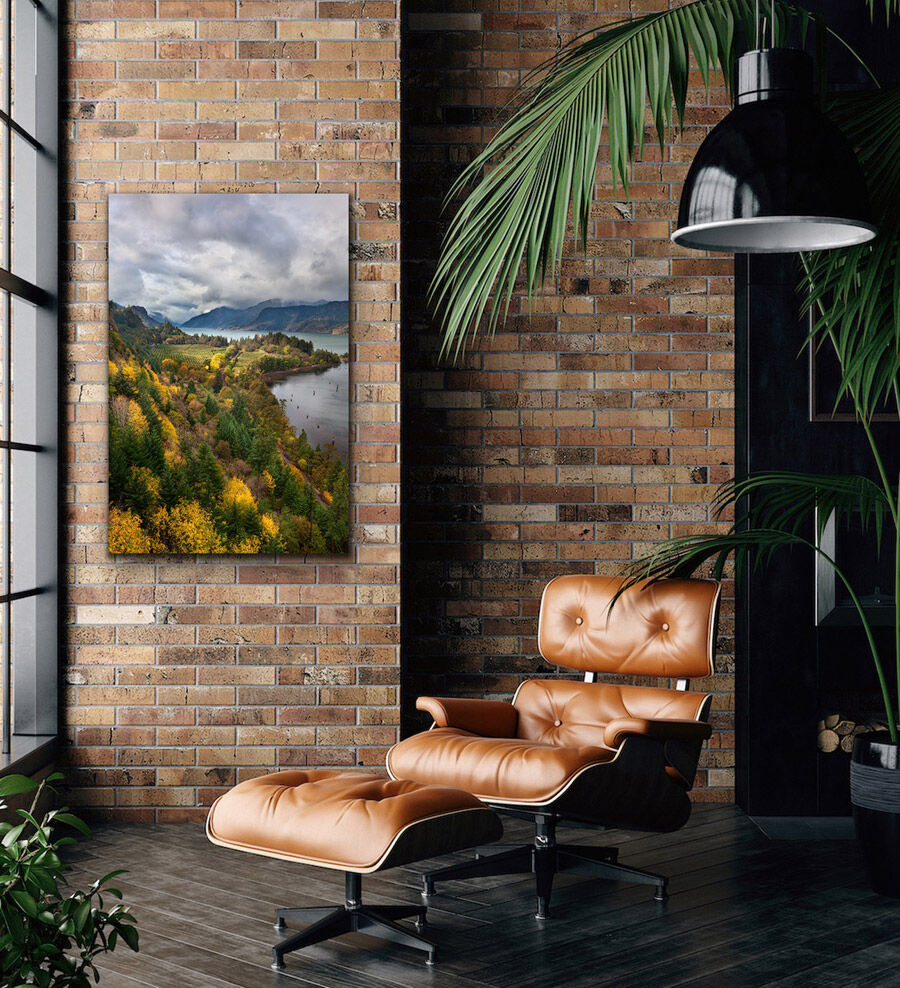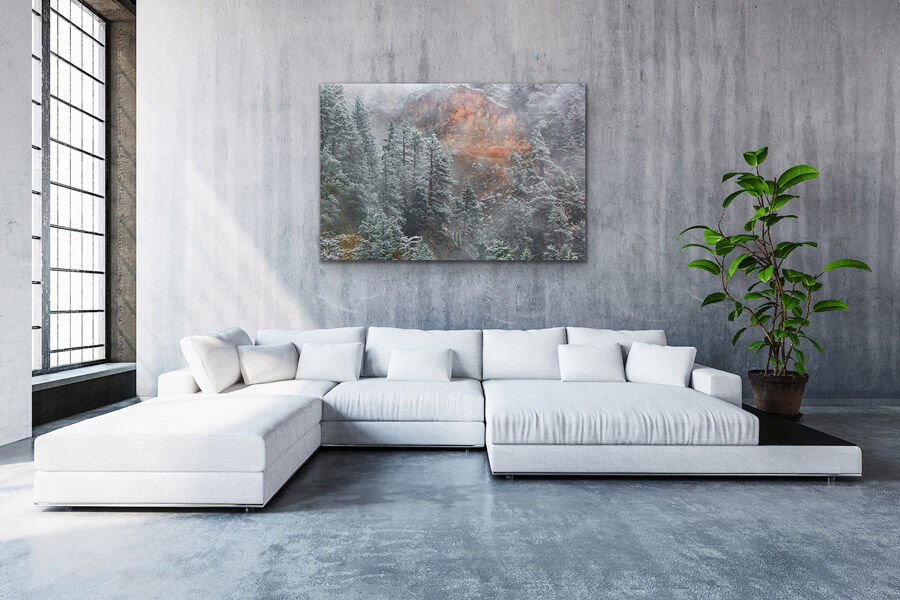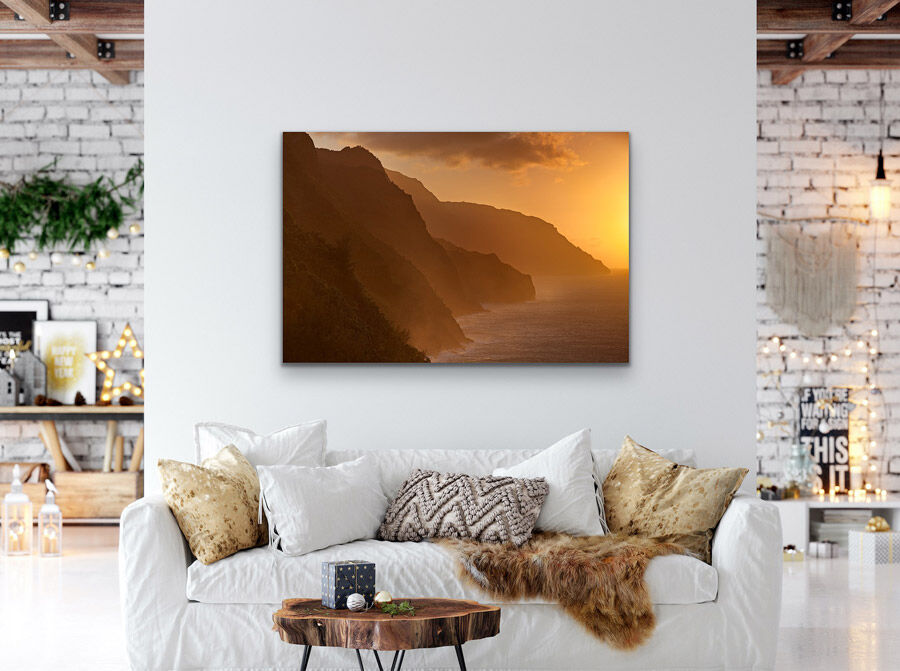 Size Comparisons
I am often asked what the right size art is for the wall it will be placed on. Many factors can weigh into this such as how big the room is, what other objects are hanging on the wall or around it as well as personal preference. In my own home depending on where a photo is on display it normally ranges from 20"x30" to 40"x60" as an example.
We are glad to discuss this with any collector that is interested in investing in a piece of art from Adrian Klein Photography. Here are some examples to give you a general idea of what a photo of different sizes looks like in a living room setting. If you are able to take a good clear photo of the wall space you want to hang the photo on we will be able to show you an example similar to the photos below of what it will look like size wise on your wall!